Go on a Pilgrimage!
November 7, 2018
By

JR Labio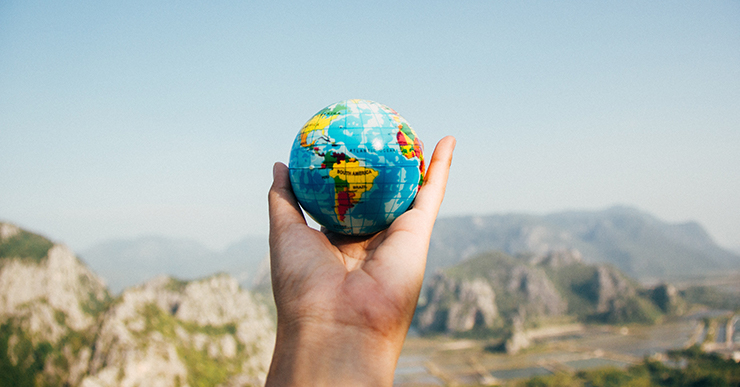 Photo by Porapak Apichodilok
Perhaps you've done this before: scrolling through Instagram, past a handful of filtered photos of food and fuzzy cats, pictures of faraway places occasionally pop up in the feed. Suddenly, pangs of desire for travel crop up, and then the browser's history fills up with stacks of travel blog links and TripAdvisor reviews.
The struggle becomes real for wanting to travel somewhere, and with today's technology and ease of travel, going places is achievable more than ever.
But I would argue that even as we dream about climbing Mt. Fuji, taking selfies in front of Sydney's Opera House, and touring the Colosseum in Rome, our Catholic faith gives us a more enriched reason to travel—we can go on pilgrimages!
At the end of the Gospel of Matthew, Jesus commissioned His apostles to make disciples of all nations. Fast forward 2000 years later, and looking around the world, it seems as though you can experience the Catholic faith across all seven continents. 
So, while climbing Mt. Fuji, why not check out the Catholic churches in Tokyo? Or why not walk over to Sydney's beautiful cathedral after taking selfies at the Opera House? And I'm sure you know that the Vatican is just across town from the Colosseum!
With that said, especially for Catholic singles, I highly recommend going on a pilgrimage!
What is a pilgrimage?
According to Fr. John Hardon, author of the Modern Catholic Dictionary, a pilgrimage is "a journey to a sacred place undertaken as an act of religious devotion. Its purpose may be simply to venerate a certain saint or ask some spiritual favor; beg for a physical cure or perform an act of penance; express thanks or fulfill a promise" (p. 422).
Classic and timeless pilgrimages for us Catholics include visiting the Holy Land in Israel, and Rome, Italy due to their significance in the history of the Church. Other popular pilgrimages include Lourdes, France, the Camino De Santiago, Fatima, Portugal, and—for us in America—the Basilica of Our Lady of Guadalupe in Mexico City, Mexico.
As Fr. Hardon mentions, pilgrimages can be taken for various reasons. I've gone on pilgrimages to learn and immerse myself in the lives of saints and martyrs like St. Paul Miki and his companions in Nagasaki, Japan, and I visited Pope St. John Paul II's hometown of Wadowice, Poland and learned about his life in the very apartment he grew up in, which is now a museum. I've spent weekends in a hardly known, massive Benedictine monastery in the-middle-of-nowhere Oklahoma to further discern God's will for me, especially in regards to marriage. I most recently spent a weekend in the desert of Phoenix, Arizona hitting up cool churches, convents, and shrines in the area as penance for my own shortcomings and in reparation for the evils we face today.
Some Pilgrimage Ideas
I'm going to offer a few pilgrimage ideas of varying difficulties. You can choose how difficult, penitential, and spiritual you want it to be. You can also do these solo or with a group of people. Here they are:
Easy
Go to Mass at a different parish in your diocese, preferably somewhere across town
Go to Mass in a foreign language that you are not fluent in
Visit a local monastery or convent and pray with the religious community there
Go to Mass at a church named after a saint on that saint's feast day
Medium
Drive or fly to any church in the next state or province to do any of the ideas listed under Easy
Spend a weekend at a Benedictine monastery and attempt to join them for all available prayer times
Visit a national shrine that is not local to you
Hard
Choose a church, shrine, or chapel to visit and pray at; choose a distance away from the location and physically walk there
Fly to an international location and do any of the ideas listed under Easy or Medium
String together visiting holy sites, churches, shrines, or chapels in a week or less
Walk the Camino de Santiago in Spain
I know most people often think of pilgrimages as something that takes up a lot of time and a lot of money, but pilgrimages can be as simple as checking out that church you pass by every day but have never visited. You don't need to drop thousands of dollars and burn two weeks of vacation to go on one. Day trip and weekend pilgrimages can be just as legit!
Pilgrimages are an excellent way to encounter and spend time with God. They're fantastic for experiencing new places both as a tourist and as a Catholic. And lastly, they're also wonderful for meeting new people and experiencing different cultures or sub-cultures. Since we're Catholic, our experience of Mass and Jesus in the Eucharist is universal no matter where you are in the world or what language is spoken—and that's awesome!
Pray about it. Don't sweat the travel details too much. Just go—go on a pilgrimage!
Reference
Hardon, John A., S.J. (2008). A Modern Catholic Dictionary. Bardstown, KY: Eternal Life.