15 Catholic Pick-Up Lines You'll Want to Use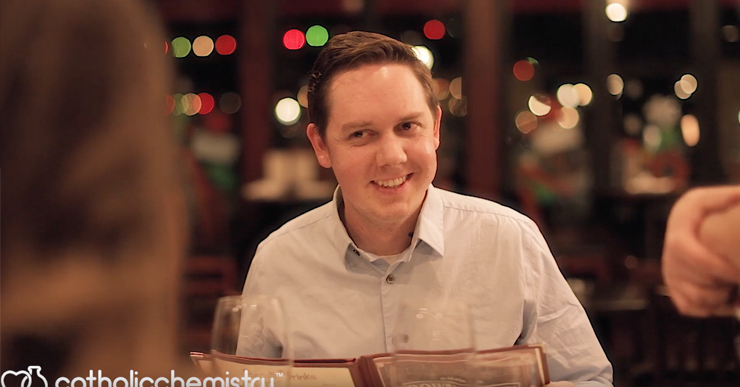 You've met a cute Catholic guy or gal and you really want to talk to them, but you just don't know how. Well, here at CatholicChemistry we thought we'd help you out a little bit with some of the most original (and not commonly used) Catholic pick-ups lines just for you.*
Biblical connections:
"You know, I can't tell you you're flawless because of Original Sin, but you come pretty darn close."
"Are you a fisher of men? Because, girl, you're reeling me in."
"My friend told me to come and meet you. He said that you were a really nice person. You may know him; his name is Jesus."
"If Solomon had met you, he wouldn't have needed 700 wives; one would have been enough."
"The Bible says, 'Give drink to those who are thirsty and feed the hungry.' So, how about I buy you dinner?"
"Hi, my name is Peace. Can I be with you?"
For the Lenten season:
"Well, I guess we'll only be able to see each other on Sundays for the next few weeks since I'm giving up sweet things for Lent."
"You know what you should give up for Lent? Being single… along with your number."
"It's Palm Sunday. Mind if I hold yours?"
Wingmen (and woman) saints:
"Just call me St. Joseph because you've left me speechless."
"Here's a rose. I think Saint Thérèse wanted you to have it."
"I'm doing my Marian consecration this year. Next year, I'd like to be Marian you."
"I guess the Never Fail Novena doesn't ever fail, because here you are."
For the fearless: "When I think of you, I lose my head. Happy feast of the martyrdom of St. Valentine."
"Hail Mary, full of grace, I'm looking at an angel, face-to-face."
* Disclaimer: CatholicChemistry nor this post's writer are responsible for any groans, unintentional laughs, or slaps you may receive in the process of using these pick-up lines. Proceed with caution.