Lord, Teach Us to Babble
June 6, 2019
By

Chuck Gallucci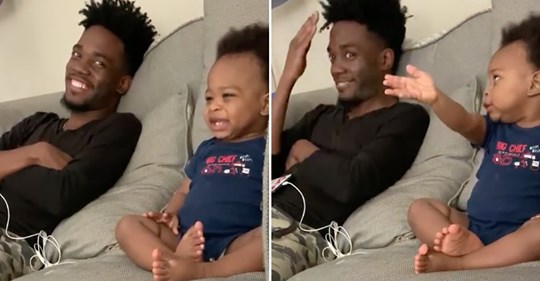 I think we should babble to God and to each other.
Not like they did after the Tower of Babel but like this child babbles to his father. This is how God can be so far above us yet still so intimately close.
Take some time today to babble to your Father in heaven.
It doesn't matter where you're at in life: bring your worries, hopes, and joys to God and he will be attentive and overjoyed.
Because when two people who love each other converse, often times the words fade to the background and the essence surfaces.
Dare I say Jesus babbled?
In today's Gospel reading, Jesus lifts up his eyes to heaven and prays:
"I pray not only for these,
but also for those who will believe in me through their word,
so that they may all be one,
as you, Father, are in me and I in you,
that they also may be in us,
that the world may believe that you sent me.
And I have given them the glory you gave me,
so that they may be one, as we are one,
I in them and you in me,
that they may be brought to perfection as one,
that the world may know that you sent me,
and that you loved them even as you loved me.
Father, they are your gift to me.
I wish that where I am they also may be with me,
that they may see my glory that you gave me,
because you loved me before the foundation of the world.
Righteous Father, the world also does not know you,
but I know you, and they know that you sent me.
I made known to them your name and I will make it known,
that the love with which you loved me
may be in them and I in them."
If this passage ever hit you as being redundant or superfluous, perhaps it's because God is simple. All the pages of the Catechism of the Catholic Church are about one thing: love. All the pages of the Bible speak one Word: Jesus.
Like a love song, the tomes of theology ultimately melt away into a rapturous and repetitive chorus of simple praise.
Perhaps this explains the account of Thomas Aquinas likening his writings to straw, a pious gesture, an acknowledgement that he had spent his life babbling. A life well spent.
And when the Doctor of the Church heard the voice of Christ asking, "Thomas, you have written well of me. What reward will you have?"
His response:
"Nothing but you, Lord."
Simple. Babble.