Why Every Catholic Needs to Read Pope St. John Paul II's Love and Responsibility
October 23, 2018
By

Melissa Guerrero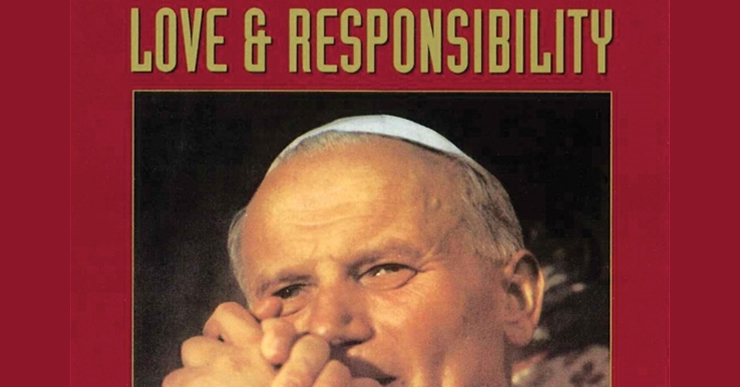 Love and Responsibility by Karol Wojtyla, Ignatius Press
There's a lot we can learn about relationships from saints who were never married. Case in point, Pope St. John Paul II's Theology of the Body.
However, there is one slightly less known book of his that you should definitely read while you're still in the dating season – Love and Responsibility. If you've never heard of the book, here's a quick overview of what you'll find in its pages.
More than romance
You may think that this book is only about relationships and you'd be correct… as long as you also include platonic friendships.
One of the best features of this book is that is covers issues that come up in all types of relationships, not just romantic. It explores the differences between men and women on all relationship levels.
On a basic level, it will help you take a closer look at all your relationships – with friends, co-workers, clients, etc. – and will allow you to discern in which of the three categories of friendship they fall into.
From there, you begin to build understanding on why some relationships work in the short-term, why some should be given up, and why others will help inspire you to live a holier life. 
How it will help in your discernment
One of the best topics Pope St. John Paul II covers is the difference between sensual (physical) attraction and sentimental (emotional) attraction and why we should be careful with both.
Yes, this means that both sex and the dreaded "emotional chastity" (though that cringe-worthy phrase isn't used) topics are covered but in a way that doesn't insult nor embarrass the reader. 
While some people may initially think he's going to focus on what you shouldn't do – and he does go over why we need to be careful – he goes further and explains why both are actually good and important in the discernment process when approached with prudence.
In a post-#MeToo World, this book will help both men and women learn how to treat the opposite sex with the respect and dignity they deserve instead of seeing them as objects to use until we no longer derive pleasure from them; the most popular view of our modern society.
That, in turn, will help ensure that your own relationships will be strengthened and will withstand many of the temptations we face in the dating (and courting and married) state. 
Heavy Reading
If you give the book a try and find yourself a little lost, Dr. Edward Sri has a guide that can help you digest the content a little easier. Men, Women, and the Mystery of Love contains a more detailed overview of the book that goes section by section. Furthermore, it gives you questions to meditate on after each chapter and even has two chapters – one for single readers and another for engaged readers – that will help you grasp the content even better.
 There are so many books out there for Catholics who are dating but I haven't found many as thought-provoking or essential as Love and Responsibility. If you're looking into building better, longer lasting relationships, you cannot go wrong with this book.